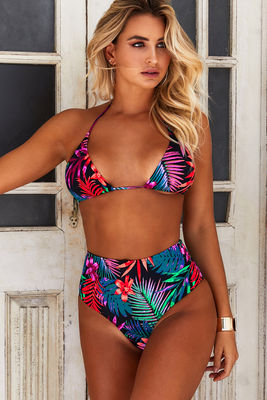 ---
Description
Top Description
Adventure through the sandy beaches and calm waves with our clean, simple and timeless bikinis! Featuring our adjustable triangle top that can be paired with any of your favorite bikini bottoms! DETAILS: Made in the USA, fully lined - clean finish with no binding trim. Adjustable triangle string bikini top with skinny neck ties and bust pad pockets. CARE INSTRUCTIONS: Hand wash, line dry, no bleach, cool iron if necessary.
---
Features
Made in the USA, fully lined
Clean finish
Adjustable triangle bikini top
Skinny neck ties
Bust pad pockets
---
---
Questions & Answers
There are no questions about this Top yet.
---
Reviews
I totally love the top. The color is vibrant. This classic string bikini is so hot and sexy. It's both a heartbreaker and a headturner. My fiance drools when I wear it to the beach pool spring break and Jamaica. A must have. 10 stars
Such a fun, vibrant print! Love the scrunch bottom and tie sides. I'm a size 6 5'4", 138 lbs), and this size L was perfect to cover "enough" front and back!
---
Need Help? Ask us anything: